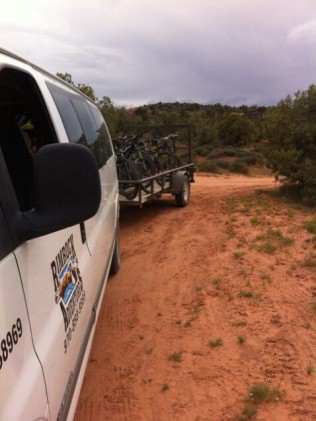 Vehicle Drop-off Service on the Colorado and Gunnison Rivers
Rimrock will move your vehicle to your take-out location. Prices listed below are per/vehicle. Multiple vehicles qualify for a per/vehicle discount. Please fill out one form per vehicle.
Please submit your shuttle request at least 48 hours prior to your launch date.
When we receive your form, we will call/email you to confirm and get your credit card payment. Your shuttle is not confirmed until we call/email you back!
Help Us Help You!
Out of respect for everyone's time and money, please follow our guidelines below to ensure the safety of your vehicle and our workers. Failure to do so will result in additional costs applied.
Make sure you have a spare key.
Please double check your vehicle is mechanically sound prior to beginning your trip. Check lights, fluids, belts, and tires to confirm your vehicle is operating safely.
Your vehicle needs to be filled with enough fuel to drive it to the take out. In the case where your vehicle does not meet this requirement, we charge an additional fee for the time on top of the cost of fuel.  A bill will be left inside the applicable vehicle.
While we do our best to avoid flat tires, they are not uncommon considering the conditions of the roads we encounter. Please carry a spare tire, lug wrench, and jack. If your spare tire is locked, please make sure we have access to a key.   We do our best to accommodate these situations by using fix-a-flat and tire replacements with additional service fees.
Gratuities are appreciated by the drivers which can be left in the vehicle or in the office. If you leave it in your vehicle, please mark it as a tip otherwise our drivers will not take what is not designated for them.
Your vehicle is required to have current state registration and insurance certificate accessible to the driver. If you have a digital copy, please print the certificate out and leave it in the vehicle.
Double check that your vehicle is not parked in 4-wheel drive.
Trailers
We inspect hitches, tailgates, safety chains, lights, and jacks, but the sound construction and maintenance is your responsibility. Following are some guidelines for you to follow:
We will only shuttle trailers that are well built and suitable for traveling safely at normal road speeds. Trailers constructed with nails, screws and rope are not sturdy enough. Tailgates must be attached firmly and securely. Please consider its function on a dirt road.
Be certain your trailer hitch and ball are the correct size and that the hitch is attached securely and is appropriate for the weight and size of the trailer. You must have safety chains and trailer lights must work.
Trailers must have a least one spare tire which needs to be attached securely. Please check trailer tires and spares for proper inflation and tire tread. If the trailer spare or hitch is locked, be sure you leave us a key.
Do not leave garbage or loose items in trailers.
Trailer bearings should be greased and checked before your trip.
A standard fee of $20 will be added to oversized vehicles such as RVs and campers.